Skid Steer to Tractor Attachments Adapter 160cc Motor Category 2 Links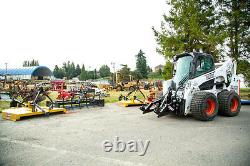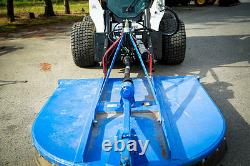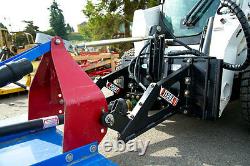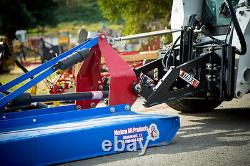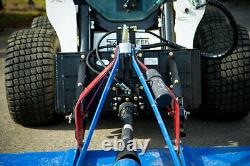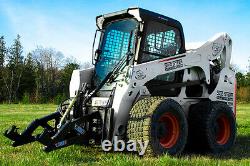 Skid Steer to Tractor Attachments Adapter - 160cc Motor - Category 2 Links. Eterra 3-Point Standard Flow 21 GPM 25 GPM (2,200 PSI 3,000 PSI) This listing does not include any tractor implements or machines photographed, they are for demonstrated purposes only. Cat 1 Links - 7/8" Cat 2 Links - 1 and 1/8" The Eterra 3-Point Adapter is uniquely designed to run your agricultural attachments. Most skid steer owners have come to this page for the same reason: to attach agricultural attachments to their loader. In this particular case, it is for skid steer loaders with Standard (Low) Flow features. You can rest assured you have come to the right place for that. Our EZ 3-Point Adaptor for standard low flow skid steer loaders is the very best the market has to offer. Our design has made sure that these adaptors account for safety, strength and longevity. Because pushing a working attachment on your skid steer loader means the attachment can come back at you if it is not secured by a spring-loaded locking mechanism. Because it was made with strong materials that feature the best possible design.
That means the adjustable arm can use a Category 0, 1 or 2 agricultural attachment without a loss of power. This is part of the design and material used to make sure that all attachments work on your loader with no hassles. The adjustable motor swivel makes sure that the PTO shaft isnt kinked.
A kinked PTO shaft means a loss of horsepower and with older models of skid steer loaders, there wasnt a lot of horsepower to start with. We have made certain that you get exactly what we claim to have. That means you will get up to 25 GPM on a loader that is rated for it. Some of our competitors have made claims per their motor specification sheet, which includes 50 GPMs of hydraulic horsepower, but that is not possible on a loader that is only rated for up to 25 GPMs. We are the skid steer attachment company you can trust.
Running your agricultural attachments on a skid steer loader is now easier than ever with this 3-point adapter that has been upgraded to be the most versatile, industry-leading standard ever produced. If you are looking for a powered 3-point adapter that is also easy to attach to, then the Eterra 3-Point Adapter is exactly what you need.
At maximum flow and pressure you can expect 15 -31 HP from this adaptor and see premium results. What we mean is we designed these units in the beginning and we put them through all the tests. Our research coupled with trial and error tasks has given us the unique ability to rise above our competitors and offer you the very best High Flow 3-point adapter the market has to offer. The incredible output and torque associated with this skid steer attachment means that a case drain is necessary, which comes with it. Your category 0, 1 and 2 agricultural attachments can now be operated on your skid steer loader with power, and believe us when we say IT IS WELL WORTH IT. This 3-point skid steer quick attach adapter features a quick hitch design that allows you to attach while in your cab. Gone are the days of jockeying in and out of your skid steer to connect your agricultural attachments.
Let us just break this 3-point adapter down for you: Adjustable lift arms to fit Category 0, 1 and 2 agricultural attachments. Rotating motor mount to line up your PTO shaft. (Extends the life of your U-Joints and maintains your horsepower) Quick Hitch allows you to attach from within the cab. (No jockeying in and out) Bypass circuit that protects your attachments from damage.
Because a dynamic attachment like this has to be. You can rest assured that this unit was designed by working skid steer operators who know what kind of hassles are experienced on the job site. That is what makes this 3-point adapter the market leader and sets the industry standard. The Eterra 3-Point attachment is compatible with any Skid Steer Loader utilizing the modern universal quick attach.
There are specific hydraulic requirements of each Eterra 3-Point Model as each has a different size motor. Please see the specific details in the description and make sure your machine meets these hydraulic flow requirements before purchasing. Message us if you have any questions!
In order to offer these great prices, there have to be some restrictions. Our system will still allow you to enter your order, but we will be contacting you to. If you require special services, we will hold your order and get back to you with a quote for these services.
The weight of any such item can be found on its detail page. If you find physical defects in the materials or the workmanship used in making the product described in this document, Skid Steer Solutions, Inc.
AT SELLERS LOCATION A REPAIR OR REPLACEMENT PART. NEITHER PARTY SHALL BE LIABLE FOR SPECIAL, INDIRECT, OR CONSEQUENTIAL DAMAGES. Skid Steer Solutions offers great financing rates! Need a question answered about this product or any product answered fast? To message your question or concern to Skid Steer Solutions, the guys that just know.
We promise you a trustworthy and detailed answer in less than 24 hours. The item "Skid Steer to Tractor Attachments Adapter 160cc Motor Category 2 Links" is in sale since Wednesday, March 4, 2015.
This item is in the category "Business & Industrial\Heavy Equipment, Parts & Attachments\Heavy Equipment Attachments\Other Heavy Equipment Attachments". The seller is "skidsteersolutions" and is located in Bellingham, Washington. This item can be shipped to United States, Canada, Mexico.
Make: Eterra
Model: ET-3PT-160-CAT2