Eterra Raptor Cyclone 48 Rotary Mower for Skid Steer Ultimate Brush Mower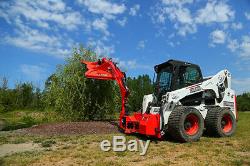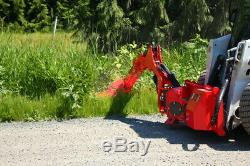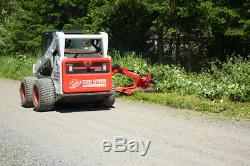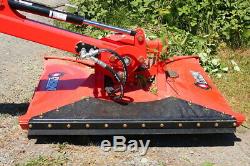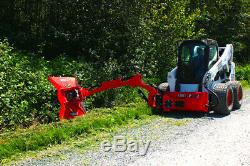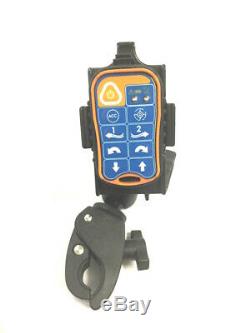 Eterra Raptor Boom - 48 Cyclone Rotary Mower. The Raptor Boom Arm Mower and Side-work System from Eterra Attachments is here.
Meet the World's 1st Industrial Grade Boom Arm Mower System for Skid Steer Professionals In 2014, Eterra redesigned their famous skid steer boom mower. It is bigger, stronger and they now have many options that our customers have asked for in the past 10 years that variants of the Raptor have existed (dates back to 2003). Competitors of Eterra Attachments have been building flimsy toys just so they can say they are cheaper. It is clear that with this new machine, Eterra designs and builds to be the best.
Check out the new specifications and become familiar with what is new and available. If you The price shown includes the Boom Arm System which will allow you to reach 10 ft.
Out to the side (varies by each Skid Steer or compact track loader machine) and the Eterra Cyclone - 48 Rotary mower. Order now and don't be disappointed. We carry only a few on hand and lead times can be 6 - 8 WEEKS when we are out of stock. USES: Roadside Brush Clearing Maintain your Fence Lines Ditch clearing Mow those pesky branches that hang down and scratch the top of your trucks We even sent one to the US Military in Iraq to clear the side of the roadways so the insurgents could not easily plant roadside bombs.
Now that is a life-saving use! YOU MUST EXERCISE EXTREME CAUTION WHILE USING THIS DEVICE AS IT IS NO TOY!
It can kill or injure you or others. BOOM ARM: Completely enclosed front enclosure protects controls and electronics Solid tubing for hydraulic lines reduces hose play and damage of hoses when they hang out in the open.
Quick connect mower heads - Sickle (3 Sizes), Flail & String Trimmer. Wireless Remote Control eliminates wiring from machine to boom. Only 1 x 12 volt source needed to run controls. Completely interchangeable with different brands and sizes of machines.
Run it on a Bobcat one day and a John Deere the next. Reach - Boom arm - 10'.
12'6 Reach with flail mower head. 16' reach with 5' sickle head, 18' reach with 7' sickle head, 20' reach with 5' sickle head. New Heavier State of the Art Mower Heads. Advanced hose routing protects your hydraulic circuits better than ever.
Hydraulic rotary actuator acts as a break away to protect your boom arm and mower head from damage if you hit a stationary object. Resets with the flip of a switch. Allows you to cut in the sideways position, and forwards as well as park the arm forward for easier transport. Full angle rotation allows the operator to cut flat overhead and angle down deep into ditches. The Raptor Boom Mower requires an auxiliary flow range of 15 - 25 GPM, there is no Hi-Flow model available but there are ways to meter your flow to run within the required range.
No High Flow Version Available, however if you can meter your flow, you can set your machine up to run up to the required flow so that you can run your skid steer at a lower throttle and still maintain your mowing ability. Enclosed cab to shield the operator from flying debris. CONTROLS Custom Wireless remote control receiver is mounted inside the control box and handles all functions of the mower. Wireless remote is hand held or can be remotely mounted.
Now works with all machine sticks and styles including Toolcat. Custom designed hydraulic block is specifically engineered and manufactured for eTerra in the USA.
This is not an off the shelf pieced together control. It has all of the functions and controls handled internally meaning you can adjust the flow to the head, pressure to the head and bleed out for the controls all on the block. This makes for very stable and easy to operate controls. This has taken us many years to perfect and you will notice the difference if you have run other hydraulic controlled implements. This is not your average mower.
Eterra and Skid Steer Solutions are not your average companies. OUR PRICE INCLUDES: The (NEW) 48 Cyclone Rotary Mower. Boom arm and all controls. Hoses and couplers to suite your machine. High Tech Wireless Controller Wireless Controller Mount for your stick Built in linear actuator to control swing, breakaway and park.
In order to offer these great prices, there have to be some restrictions. Our system will still allow you to enter your order, but we will be contacting you to. If you require special services, we will hold your order and get back to you with a quote for these services. The weight of any such item can be found on its detail page.
Want to learn more about us? To learn about who we are and where we came from. Need a question answered about this product or any product answered fast? To message your question or concern to Skid Steer Solutions.
Sign up today to receive special insider notifications of deals, promotions, and new items! The item "Eterra Raptor Cyclone 48 Rotary Mower for Skid Steer Ultimate Brush Mower" is in sale since Tuesday, July 26, 2016. This item is in the category "Business & Industrial\Heavy Equipment, Parts & Attachments\Heavy Equipment Attachments\Mowers, Mower Decks & Mower Conditioners".
The seller is "skidsteersolutions" and is located in Bellingham, Washington. This item can be shipped to United States, Canada, Mexico.
Brand: Eterra
Model: ET-RT-20-CY-48