Asv Skidsteer Perkins Caterpillar 404d-22t Diesel Engines 3024c C2.2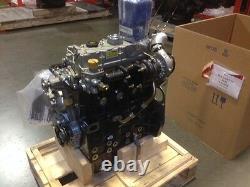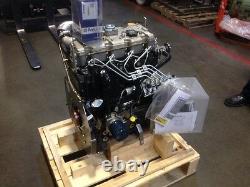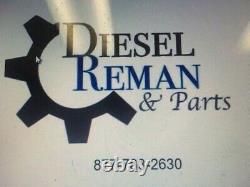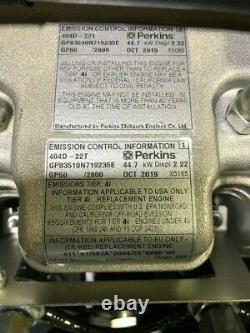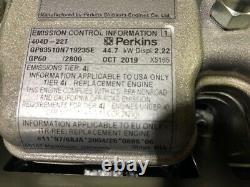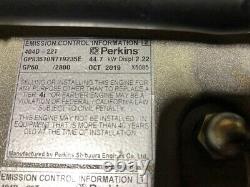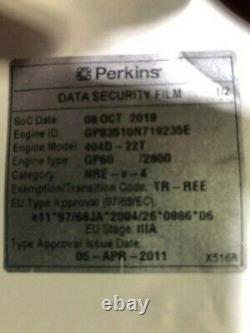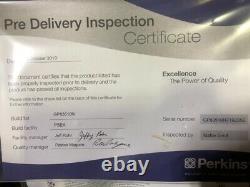 Welcome To Diesel Reman and Parts. The one stop shop for Diesel Product end users, dealers, distributors, rebuilders, and remanufacturers!
COMPLETE PERKINS 404D-22T DIESEL ENGINE - BRAND NEW ENGINE. SAME AS CATERPILLAR 3024 ENGINE.
CASE-IH 410, SR178, SV185 SKID STEERS. CASE-IH DX50, DX60, FARMALL60 TRACTORS.
NEW HOLLAND T2410 & T2420 TRACTORS. TAKEUCHI TS60R & TS60V SKID STEERS. TEREX TSR-60 & TSV-60 SKID STEERS. TEREX PT-60 POSI-TRACK COMP TRACK LOADER.
ENGINE COMPLETE WITH TURBOCHARGER, FUEL SYSTEM, BLOCK, CRANK, ROCKER ASSEMBLY, HEAD, AND ALL COVERS & GEARS. PLEASE LOOK AT ALL PHOTOS. YOU WILL NEVER PAY A CORE CHARGE WITH OURS.
YOUR OLD ENGINE CORE IS GOOD WITH US IN ANY CONDITION. WE WILL NOT PENALIZE YOUR CORE IF IT IS NOT REBUILD-ABLE. THE CORE IS NEEDED ONLY TO COMPLY WITH FEDERAL EPA REGULATIONS FOR REPLACING THESE ENGINES.
WE DO NOT REBUILD THESE ENGINES AS THEY CANNOT BE REBUILT TO FACTORY STANDARDS. THESE ENGINES ARE BRAND NEW GENUINE PERKINS FACTORY UNITS THEY ARE EPA APPROVED AND LEGAL IN USA FOR DIRECT REPLACEMENT FOR OLD ENGINES. BECAUSE THEY ARE EPA APPROVED FOR REPLACEMENT, THE EPA REQUIRES US TO COLLECT THE OLD ENGINE BEING REPLACED.
OUR NO HASSLE CORE POLICY MEANS WE REQUIRE AT LEAST THE BLOCK & HEAD. THE PARTS ARE ACCEPTED NO QUESTIONS ASKED REGARDLESS OF CONDITION. WE DO NOT NEED TO COLLECT CORE DEPOSIT WITH ORDER.
NOTES ON OUR CORE POLICY AND OUR PRICES. BECAUSE THE ENGINE WE SELL AND YOU NEED IS NOT EPA CERTIFIED BECAUSE YOU COULD NOT USE THE EPA CERTIFIED ENGINE THE GOVERNMENT ALLOWS US TO SELL THE ENGINES ADVERTISED HOWEVER THEY REQUIRE YOUR OLD ENGINE TO BE REMOVED AND DO THIS THRU CORE CHARGES. THE CORE ENGINE THAT IS TURNED IN MUST. BE THE SAME MODEL AND HAVE ALL PARTS THAT WERE SENT ON NEW ENGINE. THERE IS NO CHARGE BACK FOR DAMAGE TO THE ENGINE AT ALL.
IF YOU WANT TO KEEP YOUR CORE. 3.152, 4.236, 500, 6.354. Peregrin 1300series(PLN) 2500 Series, 2800 Series Gen-Set Engines.
In addition, the following major components will be covered for a further 24 months: cylinder block casting, cylinder head casting, crankshaft (excluding bearings), camshaft and connecting rods. 2 years - 2000 hours. 700,800 900, New 1000 Series, 1100 Series. 2 years - 3000 hours.
2 years - 8000 hours. An engine must be in service with the first user within 12 months of date of despatch from Perkins. This period can be extended via the engine storage process. In addition, the following major components will be covered for a further 12 months: cylinder block casting, cylinder head casting, crankshaft (excluding bearings), camshaft and connecting rods. Perkins will, by repair or (at its option) replacement, remedy any failure of such engine that is due to a defect in the workmanship or materials thereof and will accept responsibility for travel, labor and material costs which apply when effecting such remedy.
Repair time will be as per Perkins Repair Time schedule or as agreed in cases of application difficulty. Parts and labor rates will be as agreed with Perkins.
An authorized Perkins outlet must carry out all repairs. Any engine or component replaced by Perkins shall be disposed of in accordance with Perkins directions.
For 100 / 400 Series engines, the maximum time allowed for removal and refit is 10 hours. Proprietary Equipment Fitted by Perkins.
Electrical equipment is covered for 24 months from date into service only. Any accessories or proprietary equipment not fitted by Perkins.
Any engine used without the prior written approval of Perkins for a purpose for which it was not designed. Any engine or part which is in the opinion of Perkins has been altered, used, maintained, serviced or stored otherwise than in accordance with the Companys recommendations as published. Any engine or part from which the Perkins number or markings have been removed or altered. The costs of normal maintenance or regular servicing of the.
Expenses such as towing, carriage, subsistence, overtime premiums, owners own labor charges, hire of special equipment. Component parts considered by Perkins to be consumable items as identified in the applicable users handbook except where replacement is necessary consequent to the nature of the failure and at a time when the owner could not reasonably be expected to pay for these items.
Gradual reduction in operating performance commensurate with the age, kilometers covered or operating hours, including but not limited to, gradual loss of engine compression or gradual increase in oil consumption due to normal operating functions. Any failure to meet its obligations hereunder which are due to circumstances beyond its reasonable control including but not limited to industrial disputes, fire, severe weather conditions, government decisions, materials shortage, power or machinery breakdown or failure or war. Any claims made more than 45 days from the date of alleged failure. Perkins shall not be liable whether in contract or tort for any other loss, damage or expense, whether direct, indirect, or consequential and whether suffered by the owner or any third party and any other warranties expressed or implied, statutory or otherwise are expressly excluded to the extent that the same may be lawfully so excluded. Diesel Reman and Parts, as well as Diesel Rebuild Kits and Parts, are branches of the Find Diesels Brand.
Find Diesels, owned and operated by DB Sales Company, is a diesel engine equipment brand intended to connect the customer to a huge range of products in the diesel industry. Our job is finding the correct engines, generator sets and components, rebuild kits, and individual parts for any diesel customer at the lowest price and highest efficiency possible; Perkins, John Deere, Caterpillar, we can find it all! The item "ASV SKIDSTEER PERKINS CATERPILLAR 404D-22T DIESEL ENGINES 3024C C2.2" is in sale since Friday, December 6, 2019. This item is in the category "Business & Industrial\Other Business & Industrial". The seller is "dieselremanandparts02" and is located in Phoenix, Arizona.
This item can be shipped to United States, Canada.
MPN: gp30906
Brand: perkins