Engine Temp Alarm Bobcat Skid Steer Forklifts Slashers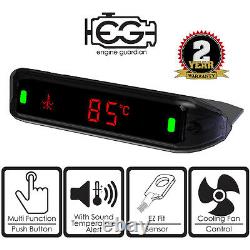 EASY TO CHANGE SETTING, WARM UP ALERT, RELAY CONTROL. WARNING TEMPERATURE SETTING FROM 0 140. PUSH BUTTON TO TEMPORARY INCREASE SETTING BY 5.
AND 15 °C FOR DRIVING MOUNTAIN. Minimum investment with maximum engine protection.
To prevent expensive engine repair. One in Digital Display, One in ECU, with switch to turn on/off. Real time monitoring engine temperature, Over heating temperature alarm and display. Work with any vehicle, Trucks, Tractors, Boats, Machines.
Engine Guardian, This system can help to prevent overheating due to. Blockage in the radiator or hose. Detect any cooling system problem due to the age of part/s.
OEM look digital display with buzzer, build in selectable in. Warning Temperature is Adjustable from. Engine Guardian Working Demo Cooling Fan Control (Optional Relay).
Warm Up Alert Factory Horn Control (Optional Relay). Most vehicles have a temperature gauge, but it lacks the ability to provide an audible warning when problem exists. This system will show the real-time engine temperature on a digital display.
If the engine overheats, the Engine Guardian will start beeping intermittently to warn the driver. When the engine temperature continuously climbing, it will beep continuously. The main purpose of this device is to protect the car engine from overheating. Typically, the engine temperature will increase beyond normal operating temperatures before serious damage starts setting in. As the Engine Guardian will detect abnormally high engine temperatures, and provide an audio as well as visual guide to the operating temperatures of the engine, the driver will be able to judge and work to reduce the operating temperature (slow down, or stop the car for a while).
This will reduce the repair cost and reduce the likelihood of needing and engine replacement. Additionally, the driver and passengers will not be stranded due to an overheated engine. Feature: - Alert driver when engine temperature is in the critical range. Optional function to override factory cooling fan system.
Simple wiring - Supplied external sensor. Cost efficient with sharing display unit with parking sensor system (Optional) - Rotatable display for easy mounting at any direction and any position. Smaller control unit for easy installation.
Build-in speaker as backup output to alert using audible beeps. Benefits: -Prevent expensive engine repair. Real time monitoring of engine temperature -Reduce likelihood of engine overheating and stranding the driver -Can help to prevent overheating due to: - coolant loss - hose leaks - malfunctioning thermostat - blockage in the radiator or hose - malfunctioning water pump. Specification: Input voltage: 12 24Vdc Detection temperature: -19°C 150°C Sensor wire length: 10 ft or 3 meter Conduit for sensor wire: 5 ft.
ECU x 1 pc 2. Display x 1 pc 3. Sensor x 1 pc 4. Push Button x 1 pc 5.
Power cable x 1 pc 6. Relay output cable x 1 Set 7. Accessories pack x 1 pc. Cooling Fan Control (Optional Relay). Factory Horn Control (Optional Relay).
The item "ENGINE TEMP ALARM BOBCAT SKID STEER FORKLIFTS SLASHERS" is in sale since Tuesday, November 15, 2016. This item is in the category "Vehicle Parts & Accessories\Car & Truck Parts\Performance Parts\Other".
The seller is "carsensors" and is located in Memphis. This item can be shipped worldwide.
Manufacturer Part Number: Engine Guardian
Brand: Durasen
Compatible Makes: All
Product Type: Performance Parts
Manufacturer: Engine Guardian