Brand New Alternator for Komatsu Skid Steer SK1020 SK1026 3.3L Diesel 4D98E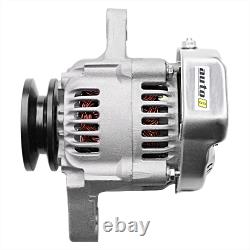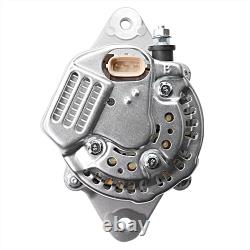 You are looking at another quality product from Auto 8. Brand New Alternator for Komatsu Skid Steer SK1020 SK1026 3.3L Diesel 4D98E.
Thank you for shopping at Auto 8. This is a New Connector to suit this Alternator, it is common for the plugs on these alternators to fail and cause damage to the regulator or cause poor performance, this is caused by a bad connection in the pins. This is why we recommend replacing the plug when replacing the alternator. For a little extra you get piece of mind that the Alternator is operating at optimum performance and efficiency. Please note: Quite often certain vehicles may have two different parts for the same application to ensure you are receiving the correct part for your vehicle you will need to send us the part numbers from the original part fitted to your vehicle.
There is more detail for this product provided below scroll down and take a look. To confirm this is the correct item for your vehicle. We have Qualified & Experienced automotive technicians to provide any technical information needed. 1.6L 3cyl Diesel - 3TNV88.
1.3L 3cyl Diesel - 3TNV82. 2.2L 4cyl Diesel - 4TNV88. 1.3L 3cyl Diesel - 3TNE78-RJB. 1.4L 3cyl Diesel - 3TNE82-RJB. 1.5L 3cyl Diesel - 3TNV84.
1.5L 3cyl Diesel - 3TNV84HT. 1.2L 3cyl Diesel - 3TNE78. 1.5L 3cyl Diesel - 3TNE84.
2.2L 4cyl Diesel - 4TNE88. 3.3L 4cyl Diesel - 4D98E. 3.4L 4cyl Diesel - S4D98E.
1.3L 3cyl Diesel - 3D82AE. 1.6L 3cyl Diesel - 3D88E.
2.0L 4cyl Diesel - S4D84E. Inside Feet To Feet (mm). Which may be used to contact the customer if the item is bulky or is sent by certain couriers.
In no case shall Auto 8 be responsible for any sequential costs including removal and re-fitment costs of the item. At auto8 we try to provide our customers with as much information as possible, we offer free technical advice available from one of our qualified team members for information regarding our products including guided installation information, part recommendations, part fitment, and part details. Do you have a question for us? Delays can be expected in busy periods, please leave a short message with your name and reason for your enquiry and we will be in contact with you as soon as possible. Please note: All collections must be organized through our Head office. Or call the warehouse and our Customer Service team will be happy to assist. Simply send us the reference you used, the day and time you paid, and the amount deposited. To our qualified team who are only too happy to help. AND RECEIVE LATEST UPDATES & EXCLUSIVE OFFERS.