Cement Mixer Attachment Model 2500 Mix and pour cement with your Skid Steer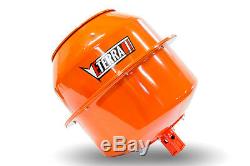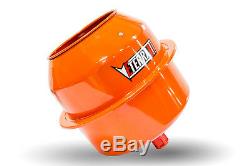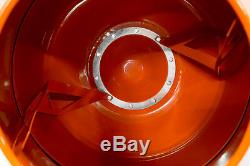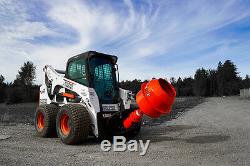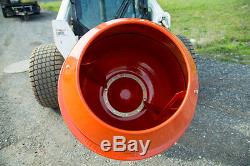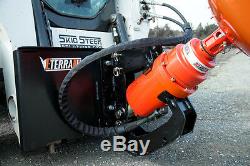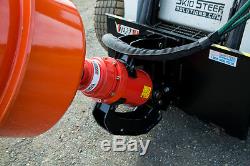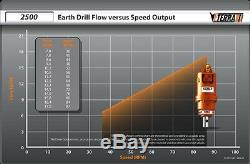 Eterra Cement Mixer Model 2500. Looking to quickly mix, move, and pour cement? Enter the Eterra Cement Mixer model 2500!
This 2 hex drive cement mixer and auger attachment' comes complete with a universal skid steer mounting plate, a flip hitch mount, and a cement mixer bowl - all in one easy-to-use package. When you have finished mixing, just flip the mount over, add an auger bit, and you are ready to do some earth drilling. This package includes hoses and ½ flat faced couplers. Another package from Skid Steer Solutions combining simplicity of use with exceptional value! Eterra Auger X2500: 2100 ft.
Standard Configuration includes Auger Drive, Plate, Flip Hitch & Mixer Bowl. Recommended Auger Sizes 4" - 24". When we started working on this new auger design over 2 years ago, we knew we had to do something that differentiated us from the rest of the pack. Our strengths are in designing products with multiple uses. Our designs create added value for our customers that is sometimes immeasurable in terms of the added uses.
We think that we just hit the ball out of the park with the Auger Series III. The base auger is similar to others, but it stops there. We offer this mixer with three models of drives for your specific model and brand of skid steer loader. Model (2500), the 2800 ft. Model (3500) and the 3500 ft. Each unit comes with a standard swivel and mounts to our twin rail mount. The drives use a planetary drive system that we had developed by our Australian partners. This drive system is unlike any other system available in the North American marketplace. Every other drive system on the market uses a drive shaft that is inserted from the front. It has a spline and a nut that goes on from the rear to hold the shaft in place. When you hang an auger bit on the shaft you immediately have an issue where the weight and turning motion are working on that shaft and are trying to pull the shaft out of the planetary drive. Our drive shaft is inserted from the back of the gearbox and has a large thrust plate as part of the shaft.
This plate keeps the weight distributed over a larger area and locks the shaft into place virtually eliminating any risk of the shaft ever falling out of the drive unit. We believe that this makes our drives much tougher than anything else available. Through more than 4 years of testing in Australia and Europe there have been no failures and believe me, the Aussies are hard on their attachments. Now the really cool stuff. The Flip Hitch has an opposing locking collar that can easily be pinned in place.
This collar holds the auger from swinging and then allows you to roll the auger drive over 180 degrees. The auger will be held at a 45 degree angle that allows you to use your auger to drill horizontally into the ground or add our new SM-140 cement mixer bowl. That is right, CEMENT MIXER BOWL! Now a fencing contractor can have an auger and cement mixer all in one for about the same price that others sell their augers for.
In order to offer these great prices, there have to be some restrictions. Our system will still allow you to enter your order, but we will be contacting you to. If you require special services, we will hold your order and get back to you with a quote for these services. The weight of any such item can be found on its detail page. Want to learn more about us?
To learn about who we are and where we came from. Need a question answered about this product or any product answered fast?
To message your question or concern to Skid Steer Solutions. Sign up today to receive special insider notifications of deals, promotions, and new items! The item "Cement Mixer Attachment Model 2500 Mix and pour cement with your Skid Steer" is in sale since Monday, December 14, 2015. This item is in the category "Business & Industrial\Heavy Equipment, Parts & Attachments\Heavy Equipment Attachments\Other Heavy Equipment Attachments". The seller is "skidsteersolutions" and is located in Bellingham, Washington.
This item can be shipped to United States, Canada, Mexico.