Toro Dingo Auger Attachment Eterra Auger 2500 4 Mini Universal Mini Skid Steer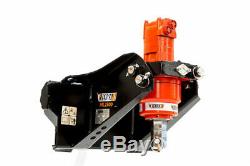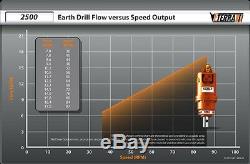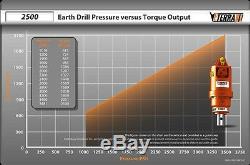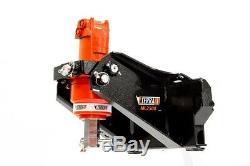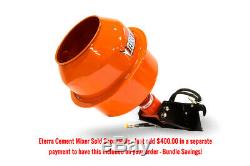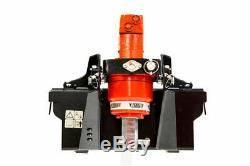 Eterra Auger 2500 for Mini Universal. Eterra Mini Skid Steer Auger Model 2500 - Fits Toro, Boxer, Ram Rod, Vermeer and others using the mini universal style adapters. The price shown is for a complete auger system which includes the auger drive, mount, hoses and hydraulic couplers (everything you need to start digging). Auger bits, cement mixer bowls and other accessories are available at an extra cost.
If you have followed the Eterra brand for any time, you have seen that we always design our products to have multiple uses. It is simple to just create another auger like the rest of them.
The marketplace is flooded with single purpose attachments. We are always innovating new ways to use our augers.
The ML Series of augers found exclusively on the Skid Steer Solutions web site is designed to not just be a simple mini skid steer auger. It is made for drilling, splitting and mixing with other ideas on the drawing board. This product helps us to continue the tradition of creating value with our products.
First, you receive a premium grade auger drive with a built in pin-able style hitch. When we say pin-able, it does not mean that you have to grab a bunch of tools and start pounding.
Simply unhook a lynch pin and slide the locking pins out with your fingers. With the hitch pinned, you can add a cement mixer to mix and pour cement on-site.
Un-pin the hitch and you have a fully featured auger with a 2-way swivel. Add our spiral splitter and split to your hearts content. Drop the splitter with one pin and add an auger sized up to 24.
This type of productivity is just unheard of in our industry. The base unit comes with a mini universal hitch but theres more.
We build special adaptors that hide themselves inside the hitch that allow you to add this to an ASV/Terex, Bobcat MT/463, Gehl Advantage and New Holland mini skid loader. Don't let this little "mini" auger fool you. It packs a real punch allowing you to use up to 24 heavy duty cast bits and auger with the confidence that you will get the job done right the first time. Check out our Eterra brand of augers for the finest bits you will find anywhere at a fair price. If you are a rental yard, you can have this on site and add the adapters as needed in just a few minutes. This can take 1 month or more. Being the original internet company and operators ourselves, we know that you need your attachments to make a living.
5 years on Gear Box. Year 1: 1 instance - no questions asked. You remove the replacement unit from the box and return the drive to us at our cost. We believe that if we truly made a mistake in manufacturing and created a defect, it will happen in the first year. Most issues after the first year are due to poor maintenance.
We will examine the drive for proper maintenance and provide a replacement of equal value if there is a manufacturers defect. If the product has been abused, we will offer the repaired or replacement price to the customer and give them the choice. We will not send out a drive in advance. What is not covered: Abuse of any kind which includes shaft breakage.
The #1 failure we see with augers is when a hole is drilled and the machine is moved while the auger is still in the ground or the operator gets impatient and tries to pull the uager out of the ground using the machine power and not the auger drive turning. The mount generally bends and the shaft breaks off right at the output from the gearbox. Driving with a large bit on with an extension pointing striaght forward. This will also damage the cradle and break the shaft.
Running the gearbox dry of oil. It is obvious to us when we inspect because the oil turns to grey putty if it is too low. Years 3 - 5: Only the gearbox is covered if it gives out. If it made it through years 1 & 2, the chances of a failure are slim unless it has not been properly maintained.
Chances are that it is not. The drive system uses our special planetary drive unit that features an anti pull-out design. We guarantee the drive for life to not have the shaft pull out the front.
It is just not possible. Our gearbox is simple and powerful. The same design is used on our much larger systems with never an issue. The output of this drive is rated to 1800 ft. In order to offer these great prices, there have to be some restrictions.
Our system will still allow you to enter your order, but we will be contacting you to. If you require special services, we will hold your order and get back to you with a quote for these services.
The weight of any such item can be found on its detail page. Want to learn more about us?
To learn about who we are and where we came from. Need a question answered about this product or any product answered fast? To message your question or concern to Skid Steer Solutions. Sign up today to receive special insider notifications of deals, promotions, and new items! The item "Toro Dingo Auger Attachment Eterra Auger 2500 4 Mini Universal Mini Skid Steer" is in sale since Wednesday, December 2, 2015. This item is in the category "Business & Industrial\Heavy Equipment, Parts & Attachments\Heavy Equipment Attachments\Augers". The seller is "skidsteersolutions" and is located in Bellingham, Washington. This item can be shipped to United States, Canada, Mexico.
Country/Region of Manufacture: United States
Equipment Type: 0.0
Model: Eterra ML-2500